NATURINA® Capsules 64 pices for Hair Skin & Nail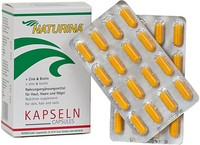 NATURINA Capsules
• Healthy hair
• Firm fingernails
• Healthy skin
"True beauty comes from within" as we say. In order to achieve this we need: a well-balanced state of mind and contentment from within. This depends on an optimal supply of vital vitamins for our body. Many factors influence our nutrition intake - stress, sport, eating habits as well as our own lifestyle - which we need to form the nutrients in our body like carotene. Carotene is needed to encourage hair and nail growth and also assures a healthy skin.
Look good, feel good.
NATURINA - a bio-active care range with vitamin E.
The optimal supplement: NATURINA Shampoo and NATURINA Hairtonic from the outside.
Made in Germany