Naturina Anti Hair Loss- 3 Month Set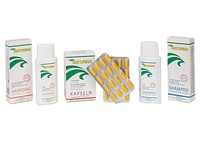 3 x Shampoo, 3 x Hairtonic and 3 x Capsules

Natural Bio-Active Care

• Beautiful, healthy hair
• Healthy skin
• Firm fingernails
NATURINA is a bio-active care series with vitamin E, consisting of shampoo, hairtonic and capsules. For many years now we have carried out intensive research to improve our products and we can rightly say 
that we are at the most up-to-date level of development. Our products 
are tested dermatologically. We only use natural raw materials, no chemical additives. We reject the use of any animal substances.
Human hair cycle consists of an active phase of 6 weeks during which the nutrition properties are taken up and a pause of again 6 weeks. During this pause the products have little effect. When you start taking NATURINA care products you do not know in which period your hair is at this very moment thus it is important to use the products for 3 months, which cover both phases and effectiveness is guaranteed. If you suffer from strong hair loss, please use NATURINA hair care range for 6 months permanently.
Made in Germany