Special offer 10 x Naturina® Skin Bleaching & Whitening Cream 50 ml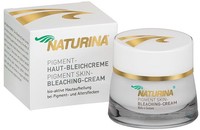 What is Naturina® Pigment Bleaching cream used for?
 Naturina® bio-active bleaching cream is generally used to reduce the appearance of hyperpigmented skin on the body or face. Many of our customers use the product to achieve a uniform skin tone by reducing the appearance of uneven areas and dark spots. Naturina® bio-active bleaching cream can be used on the face and body for specific areas such as:
Hyperpigmentation / Dark discolorations
Age / Liver spots / Sun spots
Freckles
Tans / Sun damage
Melasma / Chloasma
Acne marks
Old scars
Birthmarks
Dark elbows, knees, underarms, knuckles
Uneven skin tones.........................
No products found...