Special Offer 5 X Naturina Capsules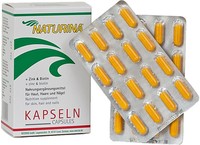 NATURINA Capsules
• Healthy hair
• Firm fingernails
• Healthy skin
"True beauty comes from within" as we say. In order to achieve this we need: a well-balanced state of mind and contentment from within. This depends on an optimal supply of vital vitamins for our body. Many factors influence our nutrition intake - stress, sport, eating habits as well as our own lifestyle - which we need to form the nutrients in our body like carotene. Carotene is needed to encourage hair and nail growth and also assures a healthy skin.
Look good, feel good.
NATURINA Capsules contain all the important vitality substances (calcium, biotin, zinc, vitamin B complex and nicotine amide) in a sensible ratio. The capsules contain valuable natural ingredients: calcium (vitamin B5) for healthy hair and firm nails and biotin (vitamin H) as the skin, nail and hair vitamin. Zinc assures a better hair growth and protects the skin cells. The vitamin B complex with the vitamins B1, B2, B6 and B12 influence the metabolism positively and have a central function for the hair roots and cuticles. Nicotine amide is also essential for good metabolism functioning.
Healthy skin needs plenty of it.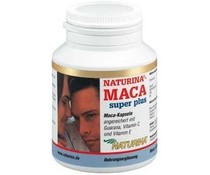 NATURINA MACA super plus More enjoyment of life NATURINA MACA super plus has been especially designed to support the body and mind performance of the male. The capsules are enriched with Guarana, vitamin C and E. 2 to 3 capsules daily supply yo...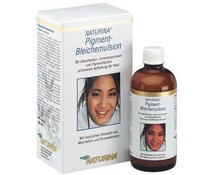 NATURINA Pigment-Bleaching Emulsion • lightening of the skin • even complexion • lovely and attractive With just a regular application twice a day, you will be able to see the desired effects after two or three months. In order to support NATUR...