Vitality/Libido/Maca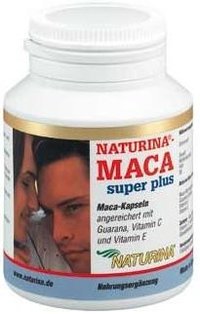 NATURINA® MACA combines the building nutrients of the Maca-root with the energizing effects of the  Guarana plant. In a gentle and natural way NATURINA® MACA stabilizes body and mind, works effectively against stress and exhaustion and gives new energy and vitality. The natives of the Andes in Peru have told for thousands of years about the erotic effects of the Maca plant as well as its effect on fertility and potency.
If you feel sceptical about chemicals then NATURINA® MACA is the natural alternative. The raw materials are sun-dried and thus the valuable vitamins, minerals and trace elements are maintained.
Only with a well-balanced nutrition can we create energy for body and mind. A sensible nutrition supplement is today vital for most of us.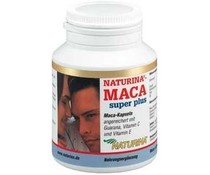 NATURINA MACA super plus More enjoyment of life NATURINA MACA super plus has been especially designed to support the body and mind performance of the male. The capsules are enriched with Guarana, vitamin C and E. 2 to 3 capsules daily supply yo...