Naturina® Maca Feminin 500 mg 60 pcs.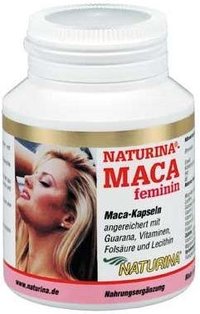 NATURINA Maca feminin
For more enjoyment of life and beauty from within
The supportive nutrition supplement NATURINA MACA feminin vitalises and strengthens naturally, increases concentration and prevents stress.
A valuable support in all living situations: NATURINA MACA feminin. The capsules have added Guarana, vitamin, folic acids and Lecithin. 2 to 3 capsules daily bring you new energy and vitality - directly from pure nature.
NATURINA MACA feminin - the natural source of energy, beauty and joy of life for women
Balanced nutrition is the energy source for body and mind. Today a well tuned nutrition supplement is unavoidable as a support against stress, exhaustion and tension.
Maca and Guarana - the newly discovered energy sources of the ancient cultures of South America
NATURINA MACA feminin combines the building nutrients of the Maca-root with the vitalising effects of the Guarana plant. Maca and Guarana revitalise body and mind. In many aspect of life NATURINA MACA feminin counteracts tiredness, lack of enthusiasm and stress.
Lecithin - a necessity of life as a preventative
Lecithin are fat accompaniments which are contained in oil seeds like Soya beans, rape and chicken eggs among others. Lecithin carries out many essential functions in the body and can have a calming effect on nervousness, tiredness and tension.
NATURINA MACA feminin - a product of pure nature, no chemical treatment. During manufacturing special heed is given to maintaining the valuable vitamins, minerals and trace elements of the raw material.
Made in Germany
No products found...